September 12, 2021 @ 2:00 pm

-

5:00 pm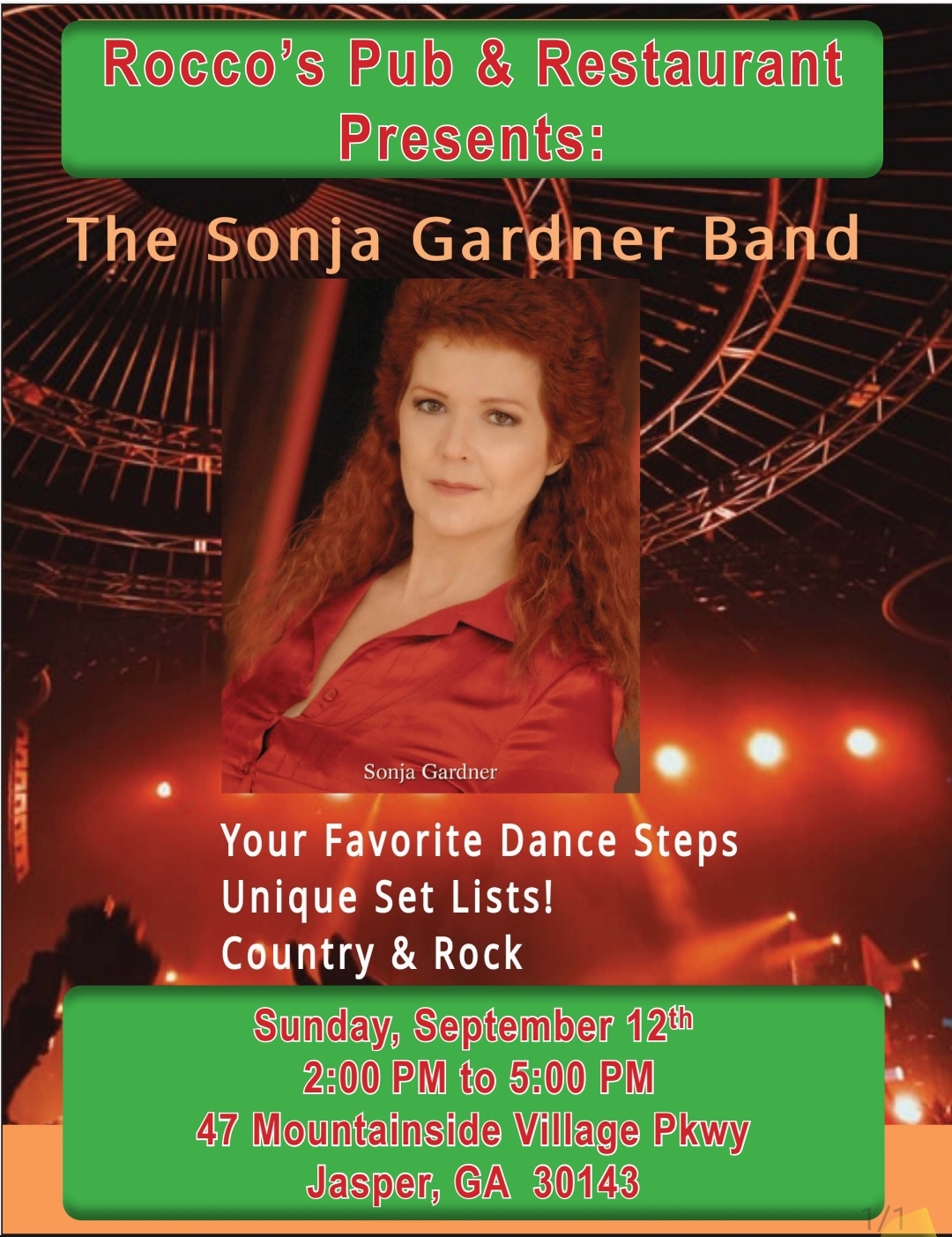 The Sonja Gardner Band began their musical journeys on varied paths bringing with them a plethora of diverse talents and life experiences. Each of those experiences have enhanced and transcended the status quo of quality band music presented to you today.
With Sonja Gardner on lead vocals, Jim Bickerton on guitar, Bob Schneider on drums and Greg Green on bass, each has shared a common drive of musical expression before combining their efforts on the destined day of their meeting; That drive being a passion for music without limitations of style, genre or composition.
From Jim's history of playing guitar since the wee age of 7 and his talent of musical expression and composition for original music, to Bob Schneider's history of touring the country in bands playing drums to everything from Reggae, to Rock and Country, and Greg's musical studies under Roy Vogt while majoring in Commercial Music at Belmont University in Nashville, Sonja's bandmates brought exceptional musical talent and experience to The Sonja Gardner Band. Their diversity brought the band added strength and uniqueness.
Sonja was signed to an Independent label, Tate Music who produced her album and music video resounding in the genre of Modern Country. Sonja joined the Outpost Opry Variety show where her experiences with both Classic and Modern Country took her to performances on Loretta Lynn's stage in Nashville, singing with a Grammy Award winner, Becky Hobbs, as well as Conway Twitty's number one son, Michael Twitty, to headline acts in Branson, Missouri and as an opening act for the Grammy Award winning band, Confederate Railroad.
The gamut of Sonja's 4- 1/2 octave vocal range is finally being exercised in traditionally male lead cover songs from Led Zeppelin, AC/DC and CCR  to the soaring heights and prestige of powerhouse female lead vocals of bands like Heart, the Judds and Bonnie Raitt. She's brought the sounds of Modern Country with her and has included original songs from her album in the band's set list.
So how does a band transcend the genre limitations called for in the traditional music industry? It creates original and cover music that combines the best of both worlds; Rock and Country music and it breaks the standard mold of what is possible.
It is easy to see how the varied paths of  The Sonja Gardner Band have through their joint efforts, realized and surpassed the limitations beyond the music scene of today. Their drive, passion and musical experiences led them here. The core of their strength is that they believed it could be done. It is absolutely possible to combine the genres of a little bit of Modern Country with a whole lot of Rock and Roll to get their audiences on their feet and dancing! You all are cordially invited to feel the passion, rise and witness it for yourselves!